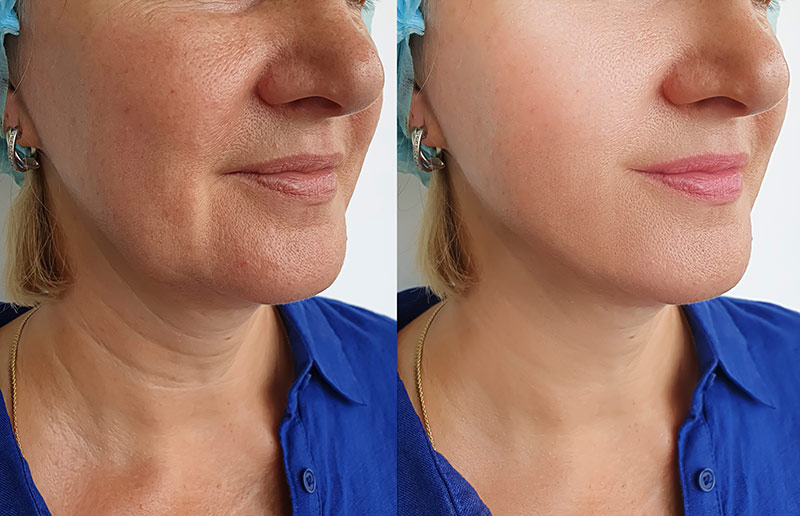 There is nothing quite as unappealing as neck wrinkles and lines that make you look, and feel, much older than your actual age. For women, in particular, this can create a dilemma of self-consciousness and insecurity. Dr. Russo can resolve this with a non-invasive cosmetic treatment that will help you look and feel much younger.
Patients throughout Central Illinois go to Rejuvenis for regular treatment to help them maintain a youthful-looking appearance.
Wrinkles and Lines – The Natural Aging Process
There is a certain joy to be found in growing older, even though the signs of aging are not one of them. Neck bands, wrinkles, and lines are caused by the loss of elasticity in the skin and the decrease in collagen production in the body compounded by laxity of neck muscles (causing neck bands). This bothersome appearance can be rejuvenated with anti-aging treatments that require no surgery.
A Smoother Neck Rejuvenates Your Appearance
With the many anti-aging treatments hitting the market these days, it is difficult to know what works and what does not. Thankfully, Dr. Russo shares the knowledge that he has gained through decades of dedication to skin enhancement. The facial rejuvenation list below describes the non-surgical treatment that consistently delivers beautiful results.
Botox
An Injectable cosmetic treatment that is very popular amongst both men and women. It blocks nerve impulses and causes temporary muscle quieting that results in the targeted wrinkles softening and, or, disappearing. The treatment is very effective on neck banding, and treatment takes 10-15 minutes with results lasting up to four months.
JUVÉDERM® VOLBELLA® XC
An Injectable hyaluronic acid filler that is ideal for the neck area as it reduces fine lines, folds, and wrinkles. Stimulating collagen and elastin in the skin, the results are smooth, wrinkle-free skin for up to 12 months.
NeckTite + Morpheus (Embrace)
We use a radio-frequency probe that tightens and contours the skin in the neck while also stimulating collagen production and remodeling fat from the targeted area. NeckTite is done under light, awake anesthesia and takes about 30 minutes. Contoured results are visible immediately, with maximal improvement appreciated 3 – 6 months after treatment.
Morpheus8
Morpheus8 is a fractoral skin treatment that uses energized microneedling to stimulate and promote collagen in the treated skin.
This results in a smoother, firmer more youthful appearance of the treated skin which shows increased tone and fewer lines.
SkinMedica Neck Correct Cream
The Neck Correct Cream for Neck and Décolleté is a powerful, highly effective serum that targets and prevents neck aging. The serum visibly lifts, firms, and smoothes the skin.
Glowing Results
Consult Dr. Russo if you want to learn more about his treatment knowledge and view his portfolio of before and after results of his patients glowing with youthful radiance.