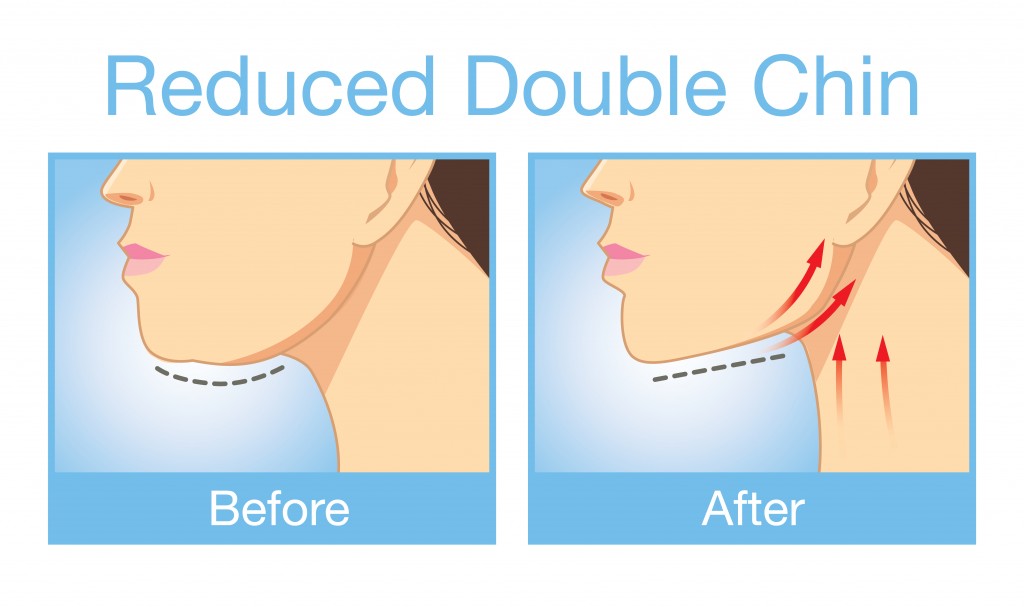 A double chin is a buildup of excess fat and loose skin in the neck area behind the chin. As a result, this gives the appearance of a second our double chin. Many times a double chin is caused by obesity or genetics. Additionally, it is also natural to have loose, sagging skin on the neck due to aging that gives one a double chin. If you suffer from an unsightly double chin then continue reading to learn about how to get rid of it.
There are many ways to treat a double chin. Below, we will examine some common procedures that treat this condition.
| | | |
| --- | --- | --- |
| Procedure | Description | Recovery |
| Chin Implants | Our chin can appear set back which can cause the neck to look flabby and fleshy. A chin implant is a great method to treat this condition because it gives the chin a more defined structure and improves the neckline tremendously. | On average, the recovery time for chin implant procedure is about seven – ten days. All exercises and strenuous activities must be avoided until after the third week. |
| Kybella | This is a fat melting substance that is injected into the treatment area and destroys the underlying fat cells.. | There's typically no downtime required afterwards and any swelling that may occur due to the injection will disappear within several days |
| CoolSculpting | CoolSculpting uses cooling technology to freeze fat cells. These cells then die and the body naturally eliminates them. | There is no downtime associated with the treatment, so you can resume your usual activities immediately. |
| Ultherapy | Ultherapy is an ultrasound-based treatment which stimulates the body's natural collagen growth and causes the skin to tighten and look plump. | Since Ultherapy is non-invasive, there is no recovery period. |
| Neck Liposuction | Neck liposuction is a surgical procedure that removes excess fat from under the chin. Performed under local anesthesia, neck liposuction involved inserting cannulas through tiny incisions to remove the fat. | Patients can go home the same day as surgery. In general, patients are able to return to normal activities after removing sutures 1 week post surgery. |
Not sure which procedure is best for you? Book your consultation with Dr. Russo at Rejuvenis Beauty today.